What Is Pilates?
Authentic Joseph Pilates Method
Pilates was designed by Joseph Pilates, a physical-culturist born in Germany in 1880. He developed a system of exercises during the first half of the 20th century which were intended to strengthen the human mind and body. Joseph Pilates believed that mental and physical health are inter-related.*
He had practiced many of the physical training regimes which were available in Germany in his youth, and it was out of this context that he developed his own work, which has clear connections with the physical culture of the late ninteenth century such as the use of specially invented apparatuses and the claim that the exercises could cure illness.*
The first generation of students, many of them dancers, who studied with Joseph Pilates and went on to open studios and teach the method are collectively known as The Elders. Modern day pilates styles, both "traditional" and "contemporary", are derived from the teaching of these first generation students.
The method was originally confined to the few and normally practiced in a specialized studio, but with time this has changed and pilates can now be found in community centers, gyms, dance studios, and in physical therapy offices.
*Sources from Wikipedia
A rare video of Joseph Pilates teaching his method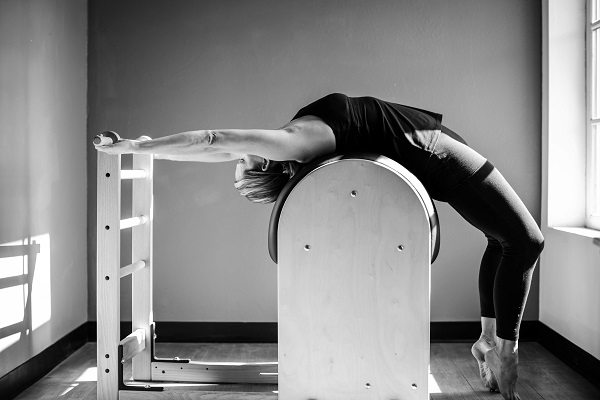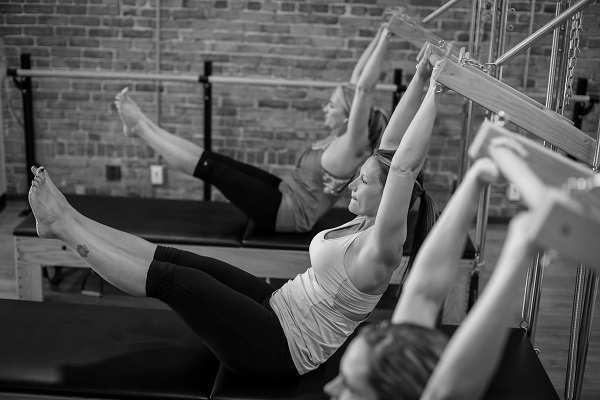 Method and apparatus
The Pilates method seeks to develop controlled movement from a strong core and it does this using a range of apparatuses to guide and train the body. Joe Pilates originally developed his method as mat exercises but, in common with many other physical culture systems from the first part of the twentieth century, he used several pieces of apparatus to help people "get the method in their bodies". Each piece of apparatus has its own repertoire of exercises and most of the exercises done on the various pieces of Pilates apparatus are resistance training since they make use of springs to provide additional resistance. Using springs results in "progressive resistance", meaning the resistance increases as the spring is stretched.
The most widely used piece of apparatus, and probably the most important, is the Reformer, but other apparatus used in a traditional Pilates studio include the Cadillac (also called the Trapeze Table), the high (or electric) chair, the Wunda Chair, the baby Chair, and the Ladder Barrel, the Spine Corrector (Step Barrel) and small barrel. Lesser used apparati include the Magic Circle, Guillotine Tower, the Pedi-Pole, and the Foot Corrector.
In contemporary Pilates other props are used, including small weighted balls, foam rollers, large exercise balls, rotating disks, and resistance bands. Some of the traditional apparatuses have been adapted for use in contemporary pilates (e.g. splitting the pedal on the wunda chair).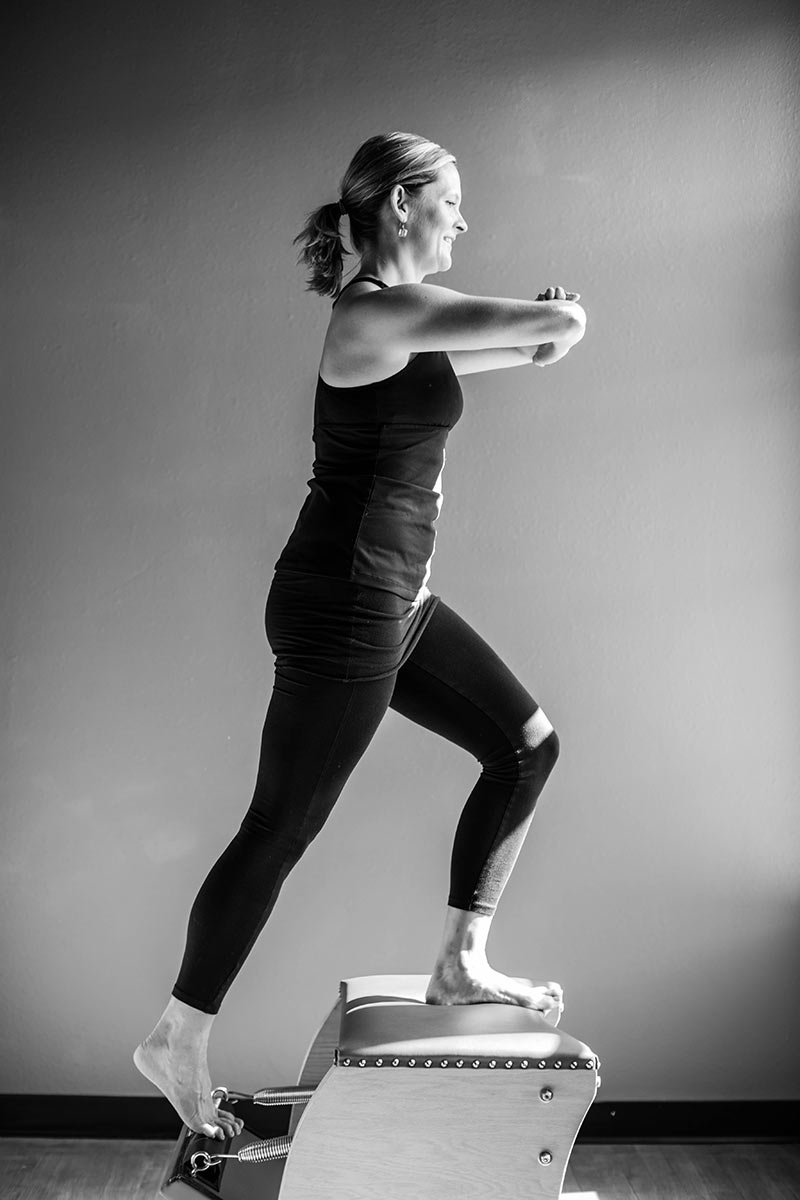 PRIVATE SESSION
One-on-one session on the mat and Pilates equipment designed to meet the needs and goals of the individual. We utilize all of the studio equipment in these sessions including the Reformer, Cadillac/Tower, Wunda chair, spine corrector and ladder barrels as well as the pedal pull and other Pilates props. You will learn and work on the classical Pilates exercises and system with an individual and personal approach.
Pricing
First session is buy one, get one free!
Single Session: $65
5 Sessions: $300
10 Sessions: $540
SEMI-PRIVATE SESSION
One Instructor for two or more students on the mat and Pilates equipment. It is recommended that students are similar fitness levels. Grab a friend and come in for an intro class together or come in for a buy 1 get 1 free Private intro session so we can see if we can match you up with some one else.
Pricing
Prices listed are per person.
First session is buy one, get one free!
1 Session: $45
5 Sessions : $200
10 Sessions: $340
6 WEEK REFORMER CLASS
These classes are 6 week introductory classes meet once per week and are limited to four students on the reformer. In addition to the reformer you will work on Mat and Tower work. Experience a unique approach to physical conditioning utilizing all of the muscles of the body.
Pricing
$110 for 6 week class series 1 time per week
MAT CLASS
These classes offer a full body core centered workout that will help you learn the classical order that Joe Pilates invented! So you can practice it anywhere you go. Mats and appropriate Pilates props are provided.
Pricing
1 Class: $15
5 Classes: $65
10 Classes: $110/$90 student